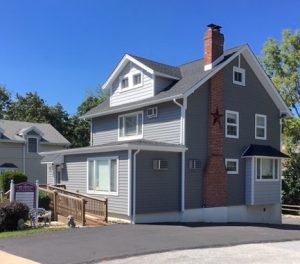 Office location:
7237 Hollywood Rd.
Suite 1
Fort Washington, PA 19034
The office is located in Fort Washington, the second house on the right on Hollywood Road. It is gray with a Law Offices sign in front. Parking is available behind the office or on the street between the office and Bethlehem Pike.
---
Turnpike users please note that many GPS programs will tell you to get on 309, but DO NOT GET ON 309.  The Ft. Washington exit puts you on Pennsylvania Ave.  Drive PAST 309 and straight through the light.  Do not turn left at the light as that will take you the wrong way on Pennsylvania Ave.  Continue on Pennsylvania Ave to the T intersection at Bethlehem Pike, where you will take a left, then an IMMEDIATE right onto Hollywood Rd.