Cannabidiol (CBD) is just one of the many cannabinoids presently identified in the cannabis plant. In hemp, however, THC is only present in trace amounts, while CBD dominates the plant's makeup. Found in all mammals, the endocannabinoid system is made up of millions of cannabinoid receptor sites located primarily throughout the brain and central nervous system (CB1 receptors) and immune system (CB2 receptors) that act in neural communication. CBD interacts with our naturally occurring systems, but is non-psychotropic, it doesn't cause a high. This makes it a safer alternative, while still offering significant health benefits.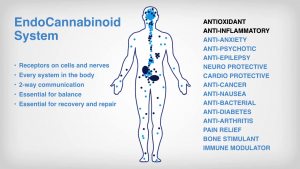 Word keeps coming in about the effectiveness of the CBD sublingual drops and ointment. Clients have used these products for anxiety, chronic pain, headaches, incontinence, tennis elbow. Here is the latest testimonial to come through my inbox:
CBD oil took the edge off AND allowed me to get some sleep when I was in incredible pain before my hip surgery.  It helped with related anxiety as well, as it was very difficult handling work/commute/chronic pain.  I used the sublingual drops several times a day pre-surgery.

I'm healing up now.  The oil is now helping in the same manner post-surgery.  I am using CBD just before bed and periodically in the middle of the night for associated muscle pain and wakefulness. It has just about replaced over the counter pain relievers.

– SF, Doylestown, PA
And now, new products have been added to the current inventory of sublingual drops and ointment. Transdermal patches in a 4" X 6" size which provide relief for 5-9 hours are available in a 2-pack or an 8-pack bag.
A liposomal spray is both water and fat soluble, giving it the most bioavailabity of all the products. This is great news for people who have digestive issues like leaky gut, IBS and Crohn's whose intestines have absorption challenges. Not only can the liposomal spray deliver more of the CBD, but it can also support the healing of the gut. It is sprayed on water or juice and drank, and is not a sublingual (held under the tongue to absorb through the mouth tissue).
An e-liquid is now available for those who have a vaporizer and are looking to get the medicinal benefits of CBD through inhalation.  It is rapid onset, felt within seconds of inhalation.
And finally, there is even Pet Therapy, a CBD product for pets!
Products and Pricing
Sublingual Drops:
| | | |
| --- | --- | --- |
| 500 mg CBD oil | 15ml bottle | $50 |
| 1000mg + 100mg turmeric | 30ml bottle | $85 |
| 1500 mg CBD oil | 30 ml bottle | $135 |
| 2000mg + 200mg turmeric | 30 ml bottle | $160 |
CBD Ointments:
| | |
| --- | --- |
| 1/4 oz trial/travel size | $12 |
| 1 oz (400 mg) jar | $45 |
| 4 oz (400 mg) jar body butter | $60 |
Transdermal Patches  (5-9 hours):
| | |
| --- | --- |
| 4" x 6" patch- bag of 2 | $27 |
| 4" x 6" patch- bag of 8 | $96 |
Other Products:
Liposomal spray – 300 mg – 30ml bottle
High bioavailability – both fat & water soluble
$90
Multipurpose e-liquid – 600mg – 30ml bottle
For vaping or inhalation
$95
Pet Therapy – 300 mg – 30ml bottle
$63
Prices are subject to change without notice.
Ordering
Call 215 206-5074 or email Yvonne at InsightBodyTherapies@gmail.com to purchase CBD products today!
For more information, check out the below resources: